Mathematics labs offers an abundance accession of learning experience and never-ending knowledge when it comes to working on, around and examining mathematical concepts and ideas. In academic centers, mathematics laboratories are activity-based and manage to catch children through innovative ventures, problem solving, reasoning and discovery.
Math lab equipment for junior classes in school may consist of multiple agreeable and engaging materials such as the junior abacus, and abacus kits. It may also constitute Base and Place value equipment, Tangrams, Puzzles, metric wheels, geometry kits and time and work kits. Math lab equipment for senior classes may include geoboards, magnetic fraction disks, mathematic charts, algebra cubes and dummy cheque books.
Mathematics teaching in today's school is textbook based, dealt mostly with the manipulation of symbols and all to often greatly removed from the real world of the child. Ceaseless reiteration, meaningless memorization and general lack of interest are other few causes that attribute negative altitudes towards mathematics. If your children has any kind of dislike towards maths and mathematical concepts in general, investing in math lab equipment from Innosqaure creations that is highly recommended by key school managements from Bangalore. These equipments have a myriad of benefits.
The merits of Maths Lab Equipments
Innosqaure creations has an extensive range of manipulation materials to which children have ready access to handle them, perform mathematical experiments, play mathematical games, solve mathematical puzzles and become involved in other activities. The laboratory perspective lets pupil to set up mathematical experiment for the purpose of discovering some mathematical principles, patterns or process. These activities may be implemented by the teacher or the students to in order to learn by extensive exploration, to stimulate interest and evolve commending altitudes towards mathematics. More involvement in the laboratory work supports in rewarding the creative and effective productivity of the students.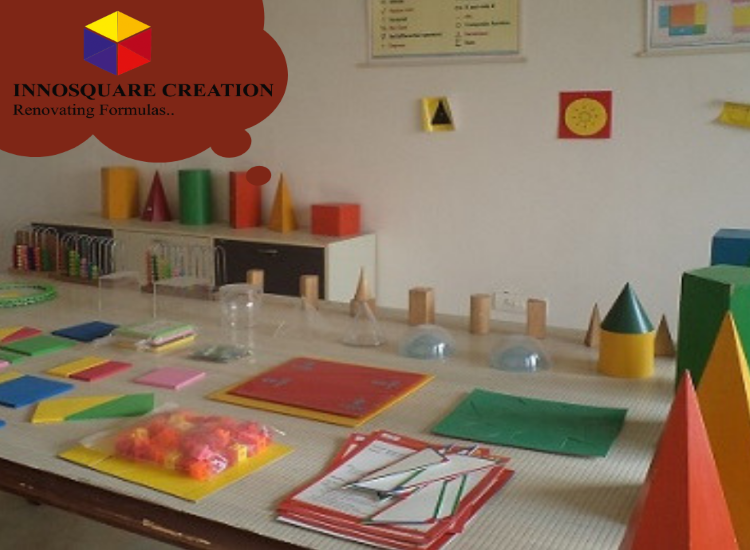 Below is a detail of benefits of using the Innosquare lab equipment:
Your children have an opportunity to comprehend and understand very basic and powerfully founded mathematics concepts through the solid objects and supplies that have been provided in the lab.
It helps you and your children to gain and sharpen not only mathematical skills but also interest as many of these materials are engaging and simple to use.
You can be fully and completely involved in any and all activities that are done involving this equipment.
Your mind and hands are involved in the learning process. This, in turn, not only raises knowledge of the subject involving intricate calculations but also sets up and simplifies cognition.
It helps students in the verifying concepts and theorems that they are already aware of. It also helps them interpret the innumerable concepts and formulae they come up with as well.
Students who shy away from the subject will be motivated to interact with the rest of the class, teacher and instructor, while using this equipment, either in knowing how it works or to teach it to their peers, or even to show them how they've been using it and what for.
This instrument stirs up extreme curiosity amongst students. Thus, it will help students and learners to participate regularly by themselves without anyone's push, thereby encouraging autonomous learning.
In addition to numerous mathematical lab equipment, there is, of course, other ways to learn and keep your interest piqued in the subject. A good example of this is through speed math classes. Speed math classes encourage the quick and critical use of formulae and concepts that you already know. It encourages mental math in a swift and methodical way to deliver the correct answer immediately. The competing nature of quick mental math acts as an important tool for achieving unexpected proficiency, for learners who cleverly apply it.
Conclusion: Innosquare Creations propose an unique atmosphere to engage you as well as children in math-related, practically engaging activities in order to learn, recapitulate and sharpen theories/concepts of Mathematics. Added to this, speed math also encourages the quick use of your mathematical skills. Innosquare offers wide range of materials appealing to people of all ages and reaches more than satisfactory score with regards to benefits mentioned above.